Wellness
---
Nursery paint to make your baby's nursery peaceful and safe
Turn your baby's room into a sanctuary with Gush's air-purifying nursery paint, giving you and your baby healthy air quality, 24/7.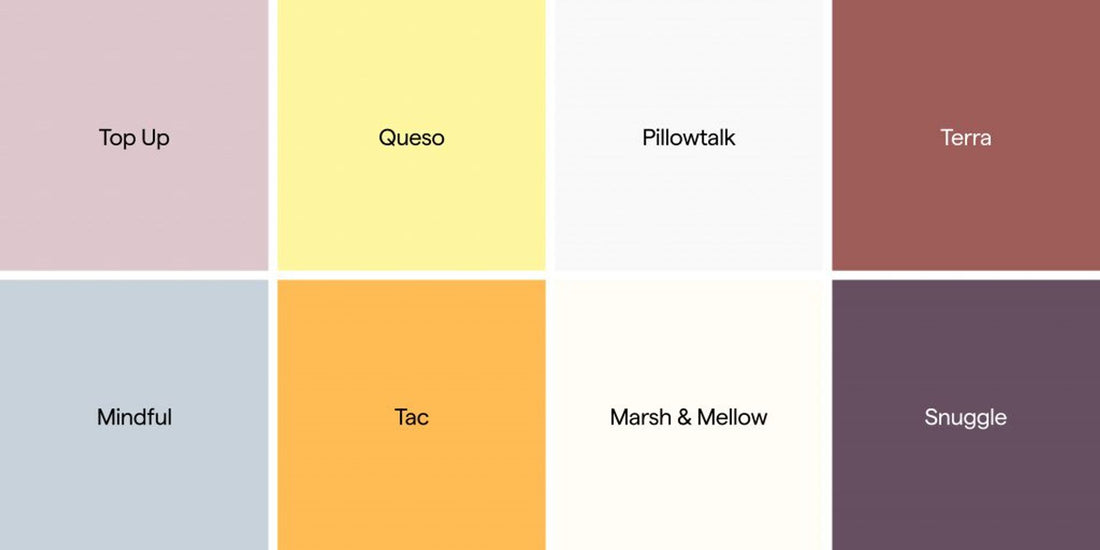 Turn your baby's room into a sanctuary with Gush's air-purifying nursery paint, giving you and your baby healthy air quality, 24/7.
---
Give your newborn the best of care,
with these nursery paint combinations.
Got a baby on the way? Congratulations! You're planning out the perfect room for your bundle of joy, down to the drawer space allocation for diapers. After all, this room is where they'll be spending a lot of time in those crucial early months and years. And you'll want to backdrop it all with the right colours. But where do you start? Here are some tips for colours to paint your new baby's nursery room.
How to choose the perfect nursery paint colour.
Firstly, breathe easy – choosing paint colours isn't a permanent step. You can always paint again if the colours aren't working like you hoped. What's important is creating a space that's inviting and calming for yourself too. Your home will grow just as your baby does, and your paint colours can change with them. Consider these when picking paint colours for your nursery:
1. What's the mood you're going for? You want the nursery to feel warm and welcoming, so avoid using cold or harsh colours. Instead, opt for softer shades that will create a calming atmosphere.
2. If you don't want to repaint the nursery every few years, you can use neutrals. They'll be appropriate for a young child as well as a teenager. Neutrals are also easily accessorised with different coloured bedding and décor items.
3. Paint colours can create different zones in the room. For example, you might want to use a lighter shade on the walls near the crib to create a calming sleeping area, and a brighter shade or an accent wall to add some visual interest in the play area.
4. Don't forget – you can paint your ceiling too. This is a great surface for an accent ceiling or mural that your baby can marvel at.
Colour combinations for a nursery.
Different shades stimulate the brain in distinct ways, but don't worry about picking the wrong shade. Know what vibe you want the room to have, and you'll know which palette to go for.
1. Soft and cool: Pale pastels of pink, blue or green are perfect for creating a tranquil atmosphere in the nursery.
2. Bright and cheerful: If you want to add a bit of energy and excitement to the space, go for brighter hues like yellow or orange.
3. Neutral and serene: White, cream or grey create a calm and relaxing environment that is perfect for sleeping and spending time with your new baby.
4. Warm and inviting: For a cosy and welcoming feel, try using rich and earthy tones like red, brown or purple.
Whatever colours you choose, make sure you test them out in the space first before committing to painting the entire room. That way, you can see how they look in different lights and make sure they're the exact shade that you want. 
Why you should use a non-toxic paint for your nursery.
Colours are important, but your baby's health takes the highest priority. You might be worried about paint smells affecting your baby, and you wouldn't be wrong. Paints, new furniture, renovation works – these all release toxic air pollutants that are unhealthy for newborn babies and young children. That's why Gush paints are the ideal solution to getting your nursery safe and healthy. Our toxic-free formulation does not release pollutants into the room even during painting. In addition, Gush paints have multiple air-purifying features. Pollutants that come into contact with a Gush-painted surface are broken down, so your indoor air quality is healthy round the clock. Keep your baby's room clear of mold, bacteria, air pollutants and harmful odours. Breathe easy, and look forward to joyous moments with your newborn, as they grow and strive in safety and, yes, lots of colour.